0.0005 SECONDS: 
SHOW TABLES FROM `maineven_met-base`

0.0149 SECONDS: 
DELETE FROM `page_views`
WHERE `views` < 15
AND `date` != '2023-12-07'

0.0154 SECONDS: 
DELETE FROM `page_views`
WHERE `date` < '2022-10-13'

0.0085 SECONDS: 
SELECT `views`
FROM `page_views`
WHERE `date` = '2023-12-07'
AND `url` = 'https://www.maineventtravel.com/tour/master-classics-of-poker'
 LIMIT 1

0.0014 SECONDS: 
INSERT INTO `page_views` (`url`, `date`, `views`) VALUES ('https://www.maineventtravel.com/tour/master-classics-of-poker', '2023-12-07', 1)

0.0006 SECONDS: 
SELECT *
FROM `settings`
JOIN `white_label_versions` ON `white_label_versions`.`id` = `settings`.`white_label_version_id`
WHERE `white_label_versions`.`url` = 'maineventtravel.com'

0.0003 SECONDS: 
SELECT *
FROM `settings`
WHERE `white_label_version_id` = 0

0.0699 SECONDS: 
SELECT `tours`.*, (select COUNT(*) from tour_stops where tour_stops.tour_id=tours.id AND tour_stops.end_date > curdate() AND tour_stops.active = 1) tour_stop_count
FROM `tours`
WHERE `active` = 1
AND `venue` = '0'
AND `festival` = '0'
ORDER BY `order` ASC

0.0006 SECONDS: 
SELECT `white_label_inclusions`.`entity_id`
FROM `white_label_inclusions`
JOIN `white_label_versions` ON `white_label_versions`.`id` = `white_label_inclusions`.`white_label_version_id`
WHERE `white_label_versions`.`url` = 'maineventtravel.com'
AND `white_label_inclusions`.`entity_type` = 'tour'

0.0003 SECONDS: 
SELECT *
FROM `tours`
WHERE `active` = '1'
AND `festival` = '1'
ORDER BY `order` ASC

0.0004 SECONDS: 
SELECT `white_label_inclusions`.`entity_id`
FROM `white_label_inclusions`
JOIN `white_label_versions` ON `white_label_versions`.`id` = `white_label_inclusions`.`white_label_version_id`
WHERE `white_label_versions`.`url` = 'maineventtravel.com'
AND `white_label_inclusions`.`entity_type` = 'tour'

0.0002 SECONDS: 
SELECT `id`, `name`, `url`
FROM `destinations`
WHERE `active` = 1
ORDER BY `display_order`

0.0056 SECONDS: 
SELECT `venues`.*, (select COUNT(*) from tour_stops where tour_stops.venue_id=venues.id AND tour_stops.end_date > curdate() AND tour_stops.active = 1) tour_stop_count
FROM `venues`
WHERE `display_in_navigation` = '1'
 LIMIT 30

0.0007 SECONDS: 
SELECT `pages`.*, `parents`.`url_name` as `parent_url_name`
FROM `pages`
LEFT JOIN `pages` as `parents` ON `parents`.`id` = `pages`.`parent_page_id`
WHERE `pages`.`active` = '1'

0.0004 SECONDS: 
SELECT `white_label_inclusions`.`entity_id`
FROM `white_label_inclusions`
JOIN `white_label_versions` ON `white_label_versions`.`id` = `white_label_inclusions`.`white_label_version_id`
WHERE `white_label_versions`.`url` = 'maineventtravel.com'
AND `white_label_inclusions`.`entity_type` = 'page'

0.0056 SECONDS: 
SELECT `news_categories`.*, Count(news_article_categories.news_article_id) as article_count, MAX(news_articles.date) as recent_date
FROM `news_categories`
JOIN `news_article_categories` ON `news_article_categories`.`news_category_id` = `news_categories`.`id`
JOIN `news_articles` ON `news_article_categories`.`news_article_id` = `news_articles`.`id`
GROUP BY `news_categories`.`id`

0.0120 SECONDS: 
SELECT `news_articles`.*
FROM `news_articles`
LEFT JOIN `news_article_categories` ON `news_article_categories`.`news_article_id` = `news_articles`.`id`
WHERE `news_article_categories`.`news_category_id` = '11'
AND `news_articles`.`active` = 1
ORDER BY `date` DESC

0.0014 SECONDS: 
SELECT `white_label_inclusions`.`entity_id`
FROM `white_label_inclusions`
JOIN `white_label_versions` ON `white_label_versions`.`id` = `white_label_inclusions`.`white_label_version_id`
WHERE `white_label_versions`.`url` = 'maineventtravel.com'
AND `white_label_inclusions`.`entity_type` = 'news'

0.0006 SECONDS: 
SELECT `white_label_inclusions`.`entity_id`
FROM `white_label_inclusions`
WHERE `white_label_version_id` = 0
AND `white_label_inclusions`.`entity_type` = 'news'

0.0052 SECONDS: 
SELECT `news_articles`.*
FROM `news_articles`
LEFT JOIN `news_article_categories` ON `news_article_categories`.`news_article_id` = `news_articles`.`id`
WHERE `news_article_categories`.`news_category_id` = '16'
AND `news_articles`.`active` = 1
ORDER BY `date` DESC

0.0014 SECONDS: 
SELECT `white_label_inclusions`.`entity_id`
FROM `white_label_inclusions`
JOIN `white_label_versions` ON `white_label_versions`.`id` = `white_label_inclusions`.`white_label_version_id`
WHERE `white_label_versions`.`url` = 'maineventtravel.com'
AND `white_label_inclusions`.`entity_type` = 'news'

0.0007 SECONDS: 
SELECT `white_label_inclusions`.`entity_id`
FROM `white_label_inclusions`
WHERE `white_label_version_id` = 0
AND `white_label_inclusions`.`entity_type` = 'news'

0.0051 SECONDS: 
SELECT `news_articles`.*
FROM `news_articles`
LEFT JOIN `news_article_categories` ON `news_article_categories`.`news_article_id` = `news_articles`.`id`
WHERE `news_article_categories`.`news_category_id` = '18'
AND `news_articles`.`active` = 1
ORDER BY `date` DESC

0.0015 SECONDS: 
SELECT `white_label_inclusions`.`entity_id`
FROM `white_label_inclusions`
JOIN `white_label_versions` ON `white_label_versions`.`id` = `white_label_inclusions`.`white_label_version_id`
WHERE `white_label_versions`.`url` = 'maineventtravel.com'
AND `white_label_inclusions`.`entity_type` = 'news'

0.0008 SECONDS: 
SELECT `white_label_inclusions`.`entity_id`
FROM `white_label_inclusions`
WHERE `white_label_version_id` = 0
AND `white_label_inclusions`.`entity_type` = 'news'

0.0051 SECONDS: 
SELECT `news_articles`.*
FROM `news_articles`
LEFT JOIN `news_article_categories` ON `news_article_categories`.`news_article_id` = `news_articles`.`id`
WHERE `news_article_categories`.`news_category_id` = '19'
AND `news_articles`.`active` = 1
ORDER BY `date` DESC

0.0013 SECONDS: 
SELECT `white_label_inclusions`.`entity_id`
FROM `white_label_inclusions`
JOIN `white_label_versions` ON `white_label_versions`.`id` = `white_label_inclusions`.`white_label_version_id`
WHERE `white_label_versions`.`url` = 'maineventtravel.com'
AND `white_label_inclusions`.`entity_type` = 'news'

0.0006 SECONDS: 
SELECT `white_label_inclusions`.`entity_id`
FROM `white_label_inclusions`
WHERE `white_label_version_id` = 0
AND `white_label_inclusions`.`entity_type` = 'news'

0.0073 SECONDS: 
SELECT `news_articles`.*
FROM `news_articles`
LEFT JOIN `news_article_categories` ON `news_article_categories`.`news_article_id` = `news_articles`.`id`
WHERE `news_article_categories`.`news_category_id` = '22'
AND `news_articles`.`active` = 1
ORDER BY `date` DESC

0.0014 SECONDS: 
SELECT `white_label_inclusions`.`entity_id`
FROM `white_label_inclusions`
JOIN `white_label_versions` ON `white_label_versions`.`id` = `white_label_inclusions`.`white_label_version_id`
WHERE `white_label_versions`.`url` = 'maineventtravel.com'
AND `white_label_inclusions`.`entity_type` = 'news'

0.0009 SECONDS: 
SELECT `white_label_inclusions`.`entity_id`
FROM `white_label_inclusions`
WHERE `white_label_version_id` = 0
AND `white_label_inclusions`.`entity_type` = 'news'

0.0056 SECONDS: 
SELECT `news_articles`.*
FROM `news_articles`
LEFT JOIN `news_article_categories` ON `news_article_categories`.`news_article_id` = `news_articles`.`id`
WHERE `news_article_categories`.`news_category_id` = '23'
AND `news_articles`.`active` = 1
ORDER BY `date` DESC

0.0014 SECONDS: 
SELECT `white_label_inclusions`.`entity_id`
FROM `white_label_inclusions`
JOIN `white_label_versions` ON `white_label_versions`.`id` = `white_label_inclusions`.`white_label_version_id`
WHERE `white_label_versions`.`url` = 'maineventtravel.com'
AND `white_label_inclusions`.`entity_type` = 'news'

0.0007 SECONDS: 
SELECT `white_label_inclusions`.`entity_id`
FROM `white_label_inclusions`
WHERE `white_label_version_id` = 0
AND `white_label_inclusions`.`entity_type` = 'news'

0.0057 SECONDS: 
SELECT `news_articles`.*
FROM `news_articles`
LEFT JOIN `news_article_categories` ON `news_article_categories`.`news_article_id` = `news_articles`.`id`
WHERE `news_article_categories`.`news_category_id` = '27'
AND `news_articles`.`active` = 1
ORDER BY `date` DESC

0.0014 SECONDS: 
SELECT `white_label_inclusions`.`entity_id`
FROM `white_label_inclusions`
JOIN `white_label_versions` ON `white_label_versions`.`id` = `white_label_inclusions`.`white_label_version_id`
WHERE `white_label_versions`.`url` = 'maineventtravel.com'
AND `white_label_inclusions`.`entity_type` = 'news'

0.0007 SECONDS: 
SELECT `white_label_inclusions`.`entity_id`
FROM `white_label_inclusions`
WHERE `white_label_version_id` = 0
AND `white_label_inclusions`.`entity_type` = 'news'

0.0057 SECONDS: 
SELECT `news_articles`.*
FROM `news_articles`
LEFT JOIN `news_article_categories` ON `news_article_categories`.`news_article_id` = `news_articles`.`id`
WHERE `news_article_categories`.`news_category_id` = '28'
AND `news_articles`.`active` = 1
ORDER BY `date` DESC

0.0013 SECONDS: 
SELECT `white_label_inclusions`.`entity_id`
FROM `white_label_inclusions`
JOIN `white_label_versions` ON `white_label_versions`.`id` = `white_label_inclusions`.`white_label_version_id`
WHERE `white_label_versions`.`url` = 'maineventtravel.com'
AND `white_label_inclusions`.`entity_type` = 'news'

0.0006 SECONDS: 
SELECT `white_label_inclusions`.`entity_id`
FROM `white_label_inclusions`
WHERE `white_label_version_id` = 0
AND `white_label_inclusions`.`entity_type` = 'news'

0.0050 SECONDS: 
SELECT `news_articles`.*
FROM `news_articles`
LEFT JOIN `news_article_categories` ON `news_article_categories`.`news_article_id` = `news_articles`.`id`
WHERE `news_article_categories`.`news_category_id` = '29'
AND `news_articles`.`active` = 1
ORDER BY `date` DESC

0.0014 SECONDS: 
SELECT `white_label_inclusions`.`entity_id`
FROM `white_label_inclusions`
JOIN `white_label_versions` ON `white_label_versions`.`id` = `white_label_inclusions`.`white_label_version_id`
WHERE `white_label_versions`.`url` = 'maineventtravel.com'
AND `white_label_inclusions`.`entity_type` = 'news'

0.0007 SECONDS: 
SELECT `white_label_inclusions`.`entity_id`
FROM `white_label_inclusions`
WHERE `white_label_version_id` = 0
AND `white_label_inclusions`.`entity_type` = 'news'

0.0111 SECONDS: 
SELECT `news_articles`.*
FROM `news_articles`
LEFT JOIN `news_article_categories` ON `news_article_categories`.`news_article_id` = `news_articles`.`id`
WHERE `news_article_categories`.`news_category_id` = '30'
AND `news_articles`.`active` = 1
ORDER BY `date` DESC

0.0014 SECONDS: 
SELECT `white_label_inclusions`.`entity_id`
FROM `white_label_inclusions`
JOIN `white_label_versions` ON `white_label_versions`.`id` = `white_label_inclusions`.`white_label_version_id`
WHERE `white_label_versions`.`url` = 'maineventtravel.com'
AND `white_label_inclusions`.`entity_type` = 'news'

0.0006 SECONDS: 
SELECT `white_label_inclusions`.`entity_id`
FROM `white_label_inclusions`
WHERE `white_label_version_id` = 0
AND `white_label_inclusions`.`entity_type` = 'news'

0.0067 SECONDS: 
SELECT `news_articles`.*
FROM `news_articles`
LEFT JOIN `news_article_categories` ON `news_article_categories`.`news_article_id` = `news_articles`.`id`
WHERE `news_article_categories`.`news_category_id` = '31'
AND `news_articles`.`active` = 1
ORDER BY `date` DESC

0.0014 SECONDS: 
SELECT `white_label_inclusions`.`entity_id`
FROM `white_label_inclusions`
JOIN `white_label_versions` ON `white_label_versions`.`id` = `white_label_inclusions`.`white_label_version_id`
WHERE `white_label_versions`.`url` = 'maineventtravel.com'
AND `white_label_inclusions`.`entity_type` = 'news'

0.0006 SECONDS: 
SELECT `white_label_inclusions`.`entity_id`
FROM `white_label_inclusions`
WHERE `white_label_version_id` = 0
AND `white_label_inclusions`.`entity_type` = 'news'

0.0003 SECONDS: 
SELECT *
FROM `tours`
WHERE `id` = 'master-classics-of-poker'

0.0003 SECONDS: 
SELECT *
FROM `tours`
WHERE `page_url` = 'master-classics-of-poker'

0.0002 SECONDS: 
SELECT *
FROM `tours`
WHERE `id` = '60'

0.0019 SECONDS: 
SELECT tour_stops.*, CASE
                        WHEN tour_stops.logo IS NULL or tour_stops.logo = ''
                        THEN tours.logo
                        ELSE tour_stops.logo
                    END AS logo, tours.name as tour_name, tours.logo as tour_logo, venues.name as venue_name, venues.location as venue_location, venues.map_latitude as venue_latitude, venues.map_longitude as venue_longitude, venues.image as venue_image
FROM `tour_stops`
LEFT JOIN `tours` ON `tours`.`id` = `tour_stops`.`tour_id`
LEFT JOIN `venues` ON `venues`.`id` = `tour_stops`.`venue_id`
WHERE tour_stops.end_date > CURDATE()
AND tour_stops.active =  1
AND `tour_id` = '60'
ORDER BY `tour_stops`.`start_date` ASC

0.0115 SECONDS: 
SELECT `news_articles`.*, `users`.`full_name` as `author`, `users`.`twitter_name` as `twitter_name`
FROM `news_articles`
LEFT JOIN `users` ON `users`.`id` = `news_articles`.`user_id`
WHERE `news_articles`.`active` = '1'
ORDER BY `news_articles`.`date` DESC

0.0014 SECONDS: 
SELECT `white_label_inclusions`.`entity_id`
FROM `white_label_inclusions`
JOIN `white_label_versions` ON `white_label_versions`.`id` = `white_label_inclusions`.`white_label_version_id`
WHERE `white_label_versions`.`url` = 'maineventtravel.com'
AND `white_label_inclusions`.`entity_type` = 'news'

0.0007 SECONDS: 
SELECT `white_label_inclusions`.`entity_id`
FROM `white_label_inclusions`
WHERE `white_label_version_id` = 0
AND `white_label_inclusions`.`entity_type` = 'news'

    
Master Classics of Poker
Master Classics of Poker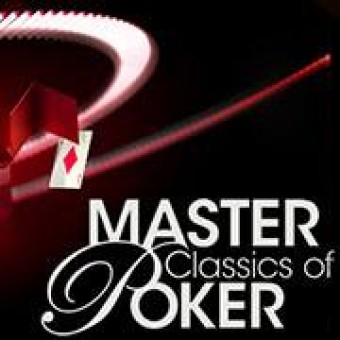 The Master Classics of Poker (MCOP) is the name of a collection of poker tournaments that have been held annually during one umbrella event since 1992. The tournaments are open to players who are at least eighteen years old and of all nationalities. The MCOP is played every year in Holland Casino , Amsterdam location .
The Master Classics of Poker in 1992 consisted of six different tournaments, of which the HFL 200 Seven Card Stud tournament was the main event . The Master Classics of Pokeris the largest annual poker event in the Netherlands and, in addition to many national and international tournament players, attracts many cash game players every year due to the wide range of limits (5-5 to 50-100).
Upcoming Tour Stops
Sorry, we have no tour stops currently scheduled for Master Classics of Poker.
Please check back soon, or subscribe to our newsletter.
Travel search results are valid for a period of 20 minutes. If you do not book by this time, items in your cart may change in price or become unavailable.