PokerStars Festival Sochi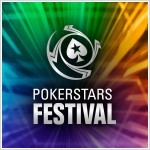 Mon 16th - Sun 22nd October, 2017
PokerStars Festival Sochi
at Sochi Casino & Resort, Estonskaya st., 51, Esto-Sadok, Sochi 354392, Russia
---
After the success of PokerStars Championship Sochi earlier in the year, we're giving you another chance to enjoy dozens of exciting poker tournaments at Russia's premier holiday resort - only this time, we're adding a PokerStars Festival feel.
With a guaranteed Main Event prize pool worth $500,000 (approx. RUB 30,000,000), plus must-play events like the $370 (approx. RUB 22,000) PokerStars Sochi Cup, and the $2,200 (approx. RUB 132,000) PokerStars Festival High Roller, don't miss all the action from October 16 - 22.
Buy-in for the PokerStars Festival Main Event costs $1,100 (approx. RUB 66,000).
Full Schedule
Your trip starts here...
Search anywhere using the form below,
click here
to search for events, or have a look at the
calendar
to see what's on!