0.0006 SECONDS: 
SHOW TABLES FROM `maineven_met-base`

0.0159 SECONDS: 
DELETE FROM `page_views`
WHERE `views` < 15
AND `date` != '2023-12-07'

0.0154 SECONDS: 
DELETE FROM `page_views`
WHERE `date` < '2022-10-13'

0.0083 SECONDS: 
SELECT `views`
FROM `page_views`
WHERE `date` = '2023-12-07'
AND `url` = 'https://www.maineventtravel.com/user/login'
 LIMIT 1

0.0174 SECONDS: 
UPDATE `page_views` SET `views` = 4
WHERE `date` = '2023-12-07'
AND `url` = 'https://www.maineventtravel.com/user/login'

0.0006 SECONDS: 
SELECT *
FROM `settings`
JOIN `white_label_versions` ON `white_label_versions`.`id` = `settings`.`white_label_version_id`
WHERE `white_label_versions`.`url` = 'maineventtravel.com'

0.0003 SECONDS: 
SELECT *
FROM `settings`
WHERE `white_label_version_id` = 0

0.0720 SECONDS: 
SELECT `tours`.*, (select COUNT(*) from tour_stops where tour_stops.tour_id=tours.id AND tour_stops.end_date > curdate() AND tour_stops.active = 1) tour_stop_count
FROM `tours`
WHERE `active` = 1
AND `venue` = '0'
AND `festival` = '0'
ORDER BY `order` ASC

0.0006 SECONDS: 
SELECT `white_label_inclusions`.`entity_id`
FROM `white_label_inclusions`
JOIN `white_label_versions` ON `white_label_versions`.`id` = `white_label_inclusions`.`white_label_version_id`
WHERE `white_label_versions`.`url` = 'maineventtravel.com'
AND `white_label_inclusions`.`entity_type` = 'tour'

0.0003 SECONDS: 
SELECT *
FROM `tours`
WHERE `active` = '1'
AND `festival` = '1'
ORDER BY `order` ASC

0.0004 SECONDS: 
SELECT `white_label_inclusions`.`entity_id`
FROM `white_label_inclusions`
JOIN `white_label_versions` ON `white_label_versions`.`id` = `white_label_inclusions`.`white_label_version_id`
WHERE `white_label_versions`.`url` = 'maineventtravel.com'
AND `white_label_inclusions`.`entity_type` = 'tour'

0.0002 SECONDS: 
SELECT `id`, `name`, `url`
FROM `destinations`
WHERE `active` = 1
ORDER BY `display_order`

0.0053 SECONDS: 
SELECT `venues`.*, (select COUNT(*) from tour_stops where tour_stops.venue_id=venues.id AND tour_stops.end_date > curdate() AND tour_stops.active = 1) tour_stop_count
FROM `venues`
WHERE `display_in_navigation` = '1'
 LIMIT 30

0.0009 SECONDS: 
SELECT `pages`.*, `parents`.`url_name` as `parent_url_name`
FROM `pages`
LEFT JOIN `pages` as `parents` ON `parents`.`id` = `pages`.`parent_page_id`
WHERE `pages`.`active` = '1'

0.0004 SECONDS: 
SELECT `white_label_inclusions`.`entity_id`
FROM `white_label_inclusions`
JOIN `white_label_versions` ON `white_label_versions`.`id` = `white_label_inclusions`.`white_label_version_id`
WHERE `white_label_versions`.`url` = 'maineventtravel.com'
AND `white_label_inclusions`.`entity_type` = 'page'

0.0056 SECONDS: 
SELECT `news_categories`.*, Count(news_article_categories.news_article_id) as article_count, MAX(news_articles.date) as recent_date
FROM `news_categories`
JOIN `news_article_categories` ON `news_article_categories`.`news_category_id` = `news_categories`.`id`
JOIN `news_articles` ON `news_article_categories`.`news_article_id` = `news_articles`.`id`
GROUP BY `news_categories`.`id`

0.0145 SECONDS: 
SELECT `news_articles`.*
FROM `news_articles`
LEFT JOIN `news_article_categories` ON `news_article_categories`.`news_article_id` = `news_articles`.`id`
WHERE `news_article_categories`.`news_category_id` = '11'
AND `news_articles`.`active` = 1
ORDER BY `date` DESC

0.0014 SECONDS: 
SELECT `white_label_inclusions`.`entity_id`
FROM `white_label_inclusions`
JOIN `white_label_versions` ON `white_label_versions`.`id` = `white_label_inclusions`.`white_label_version_id`
WHERE `white_label_versions`.`url` = 'maineventtravel.com'
AND `white_label_inclusions`.`entity_type` = 'news'

0.0007 SECONDS: 
SELECT `white_label_inclusions`.`entity_id`
FROM `white_label_inclusions`
WHERE `white_label_version_id` = 0
AND `white_label_inclusions`.`entity_type` = 'news'

0.0080 SECONDS: 
SELECT `news_articles`.*
FROM `news_articles`
LEFT JOIN `news_article_categories` ON `news_article_categories`.`news_article_id` = `news_articles`.`id`
WHERE `news_article_categories`.`news_category_id` = '16'
AND `news_articles`.`active` = 1
ORDER BY `date` DESC

0.0014 SECONDS: 
SELECT `white_label_inclusions`.`entity_id`
FROM `white_label_inclusions`
JOIN `white_label_versions` ON `white_label_versions`.`id` = `white_label_inclusions`.`white_label_version_id`
WHERE `white_label_versions`.`url` = 'maineventtravel.com'
AND `white_label_inclusions`.`entity_type` = 'news'

0.0007 SECONDS: 
SELECT `white_label_inclusions`.`entity_id`
FROM `white_label_inclusions`
WHERE `white_label_version_id` = 0
AND `white_label_inclusions`.`entity_type` = 'news'

0.0050 SECONDS: 
SELECT `news_articles`.*
FROM `news_articles`
LEFT JOIN `news_article_categories` ON `news_article_categories`.`news_article_id` = `news_articles`.`id`
WHERE `news_article_categories`.`news_category_id` = '18'
AND `news_articles`.`active` = 1
ORDER BY `date` DESC

0.0013 SECONDS: 
SELECT `white_label_inclusions`.`entity_id`
FROM `white_label_inclusions`
JOIN `white_label_versions` ON `white_label_versions`.`id` = `white_label_inclusions`.`white_label_version_id`
WHERE `white_label_versions`.`url` = 'maineventtravel.com'
AND `white_label_inclusions`.`entity_type` = 'news'

0.0007 SECONDS: 
SELECT `white_label_inclusions`.`entity_id`
FROM `white_label_inclusions`
WHERE `white_label_version_id` = 0
AND `white_label_inclusions`.`entity_type` = 'news'

0.0055 SECONDS: 
SELECT `news_articles`.*
FROM `news_articles`
LEFT JOIN `news_article_categories` ON `news_article_categories`.`news_article_id` = `news_articles`.`id`
WHERE `news_article_categories`.`news_category_id` = '19'
AND `news_articles`.`active` = 1
ORDER BY `date` DESC

0.0014 SECONDS: 
SELECT `white_label_inclusions`.`entity_id`
FROM `white_label_inclusions`
JOIN `white_label_versions` ON `white_label_versions`.`id` = `white_label_inclusions`.`white_label_version_id`
WHERE `white_label_versions`.`url` = 'maineventtravel.com'
AND `white_label_inclusions`.`entity_type` = 'news'

0.0006 SECONDS: 
SELECT `white_label_inclusions`.`entity_id`
FROM `white_label_inclusions`
WHERE `white_label_version_id` = 0
AND `white_label_inclusions`.`entity_type` = 'news'

0.0075 SECONDS: 
SELECT `news_articles`.*
FROM `news_articles`
LEFT JOIN `news_article_categories` ON `news_article_categories`.`news_article_id` = `news_articles`.`id`
WHERE `news_article_categories`.`news_category_id` = '22'
AND `news_articles`.`active` = 1
ORDER BY `date` DESC

0.0014 SECONDS: 
SELECT `white_label_inclusions`.`entity_id`
FROM `white_label_inclusions`
JOIN `white_label_versions` ON `white_label_versions`.`id` = `white_label_inclusions`.`white_label_version_id`
WHERE `white_label_versions`.`url` = 'maineventtravel.com'
AND `white_label_inclusions`.`entity_type` = 'news'

0.0006 SECONDS: 
SELECT `white_label_inclusions`.`entity_id`
FROM `white_label_inclusions`
WHERE `white_label_version_id` = 0
AND `white_label_inclusions`.`entity_type` = 'news'

0.0056 SECONDS: 
SELECT `news_articles`.*
FROM `news_articles`
LEFT JOIN `news_article_categories` ON `news_article_categories`.`news_article_id` = `news_articles`.`id`
WHERE `news_article_categories`.`news_category_id` = '23'
AND `news_articles`.`active` = 1
ORDER BY `date` DESC

0.0014 SECONDS: 
SELECT `white_label_inclusions`.`entity_id`
FROM `white_label_inclusions`
JOIN `white_label_versions` ON `white_label_versions`.`id` = `white_label_inclusions`.`white_label_version_id`
WHERE `white_label_versions`.`url` = 'maineventtravel.com'
AND `white_label_inclusions`.`entity_type` = 'news'

0.0007 SECONDS: 
SELECT `white_label_inclusions`.`entity_id`
FROM `white_label_inclusions`
WHERE `white_label_version_id` = 0
AND `white_label_inclusions`.`entity_type` = 'news'

0.0058 SECONDS: 
SELECT `news_articles`.*
FROM `news_articles`
LEFT JOIN `news_article_categories` ON `news_article_categories`.`news_article_id` = `news_articles`.`id`
WHERE `news_article_categories`.`news_category_id` = '27'
AND `news_articles`.`active` = 1
ORDER BY `date` DESC

0.0013 SECONDS: 
SELECT `white_label_inclusions`.`entity_id`
FROM `white_label_inclusions`
JOIN `white_label_versions` ON `white_label_versions`.`id` = `white_label_inclusions`.`white_label_version_id`
WHERE `white_label_versions`.`url` = 'maineventtravel.com'
AND `white_label_inclusions`.`entity_type` = 'news'

0.0007 SECONDS: 
SELECT `white_label_inclusions`.`entity_id`
FROM `white_label_inclusions`
WHERE `white_label_version_id` = 0
AND `white_label_inclusions`.`entity_type` = 'news'

0.0056 SECONDS: 
SELECT `news_articles`.*
FROM `news_articles`
LEFT JOIN `news_article_categories` ON `news_article_categories`.`news_article_id` = `news_articles`.`id`
WHERE `news_article_categories`.`news_category_id` = '28'
AND `news_articles`.`active` = 1
ORDER BY `date` DESC

0.0014 SECONDS: 
SELECT `white_label_inclusions`.`entity_id`
FROM `white_label_inclusions`
JOIN `white_label_versions` ON `white_label_versions`.`id` = `white_label_inclusions`.`white_label_version_id`
WHERE `white_label_versions`.`url` = 'maineventtravel.com'
AND `white_label_inclusions`.`entity_type` = 'news'

0.0007 SECONDS: 
SELECT `white_label_inclusions`.`entity_id`
FROM `white_label_inclusions`
WHERE `white_label_version_id` = 0
AND `white_label_inclusions`.`entity_type` = 'news'

0.0051 SECONDS: 
SELECT `news_articles`.*
FROM `news_articles`
LEFT JOIN `news_article_categories` ON `news_article_categories`.`news_article_id` = `news_articles`.`id`
WHERE `news_article_categories`.`news_category_id` = '29'
AND `news_articles`.`active` = 1
ORDER BY `date` DESC

0.0013 SECONDS: 
SELECT `white_label_inclusions`.`entity_id`
FROM `white_label_inclusions`
JOIN `white_label_versions` ON `white_label_versions`.`id` = `white_label_inclusions`.`white_label_version_id`
WHERE `white_label_versions`.`url` = 'maineventtravel.com'
AND `white_label_inclusions`.`entity_type` = 'news'

0.0007 SECONDS: 
SELECT `white_label_inclusions`.`entity_id`
FROM `white_label_inclusions`
WHERE `white_label_version_id` = 0
AND `white_label_inclusions`.`entity_type` = 'news'

0.0109 SECONDS: 
SELECT `news_articles`.*
FROM `news_articles`
LEFT JOIN `news_article_categories` ON `news_article_categories`.`news_article_id` = `news_articles`.`id`
WHERE `news_article_categories`.`news_category_id` = '30'
AND `news_articles`.`active` = 1
ORDER BY `date` DESC

0.0014 SECONDS: 
SELECT `white_label_inclusions`.`entity_id`
FROM `white_label_inclusions`
JOIN `white_label_versions` ON `white_label_versions`.`id` = `white_label_inclusions`.`white_label_version_id`
WHERE `white_label_versions`.`url` = 'maineventtravel.com'
AND `white_label_inclusions`.`entity_type` = 'news'

0.0007 SECONDS: 
SELECT `white_label_inclusions`.`entity_id`
FROM `white_label_inclusions`
WHERE `white_label_version_id` = 0
AND `white_label_inclusions`.`entity_type` = 'news'

0.0065 SECONDS: 
SELECT `news_articles`.*
FROM `news_articles`
LEFT JOIN `news_article_categories` ON `news_article_categories`.`news_article_id` = `news_articles`.`id`
WHERE `news_article_categories`.`news_category_id` = '31'
AND `news_articles`.`active` = 1
ORDER BY `date` DESC

0.0016 SECONDS: 
SELECT `white_label_inclusions`.`entity_id`
FROM `white_label_inclusions`
JOIN `white_label_versions` ON `white_label_versions`.`id` = `white_label_inclusions`.`white_label_version_id`
WHERE `white_label_versions`.`url` = 'maineventtravel.com'
AND `white_label_inclusions`.`entity_type` = 'news'

0.0007 SECONDS: 
SELECT `white_label_inclusions`.`entity_id`
FROM `white_label_inclusions`
WHERE `white_label_version_id` = 0
AND `white_label_inclusions`.`entity_type` = 'news'

0.0135 SECONDS: 
SELECT `news_articles`.*, `users`.`full_name` as `author`, `users`.`twitter_name` as `twitter_name`
FROM `news_articles`
LEFT JOIN `users` ON `users`.`id` = `news_articles`.`user_id`
WHERE `news_articles`.`active` = '1'
ORDER BY `news_articles`.`date` DESC

0.0015 SECONDS: 
SELECT `white_label_inclusions`.`entity_id`
FROM `white_label_inclusions`
JOIN `white_label_versions` ON `white_label_versions`.`id` = `white_label_inclusions`.`white_label_version_id`
WHERE `white_label_versions`.`url` = 'maineventtravel.com'
AND `white_label_inclusions`.`entity_type` = 'news'

0.0007 SECONDS: 
SELECT `white_label_inclusions`.`entity_id`
FROM `white_label_inclusions`
WHERE `white_label_version_id` = 0
AND `white_label_inclusions`.`entity_type` = 'news'

0.0013 SECONDS: 
SELECT COUNT(*) AS `numrows` FROM `news_articles`

    
Login
Login / Register
Accounts provided by
If you have already registered with us, there's no need to re-register.
Just login with the details of your existing account.
Latest News & Blogs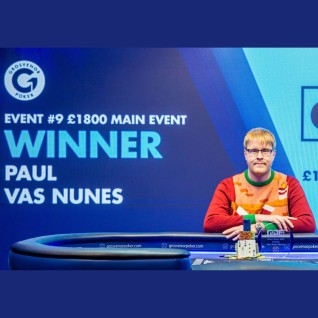 The GUKPT Grand Final has wrapped up at the Poker Room in London's iconic Grosvenor Victoria Casino with British player Paul Vas Nunes scooping the top honours in the £2k Main Event. Sporting a fetching Christmas jumper, the Guildford-based pro told the Tower he'd been hoping for some gifts – and he was rewarded handsomely with a first prize of £140,000 and the GUKPT Grand Final trophy.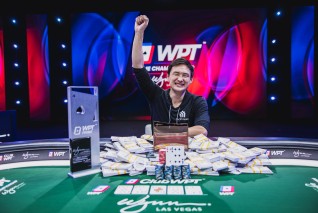 The second WPT World Championships festival kicks off tomorrow November 29 and another massive turnout is expected. are you making your way to Vegas?
Travel search results are valid for a period of 20 minutes. If you do not book by this time, items in your cart may change in price or become unavailable.